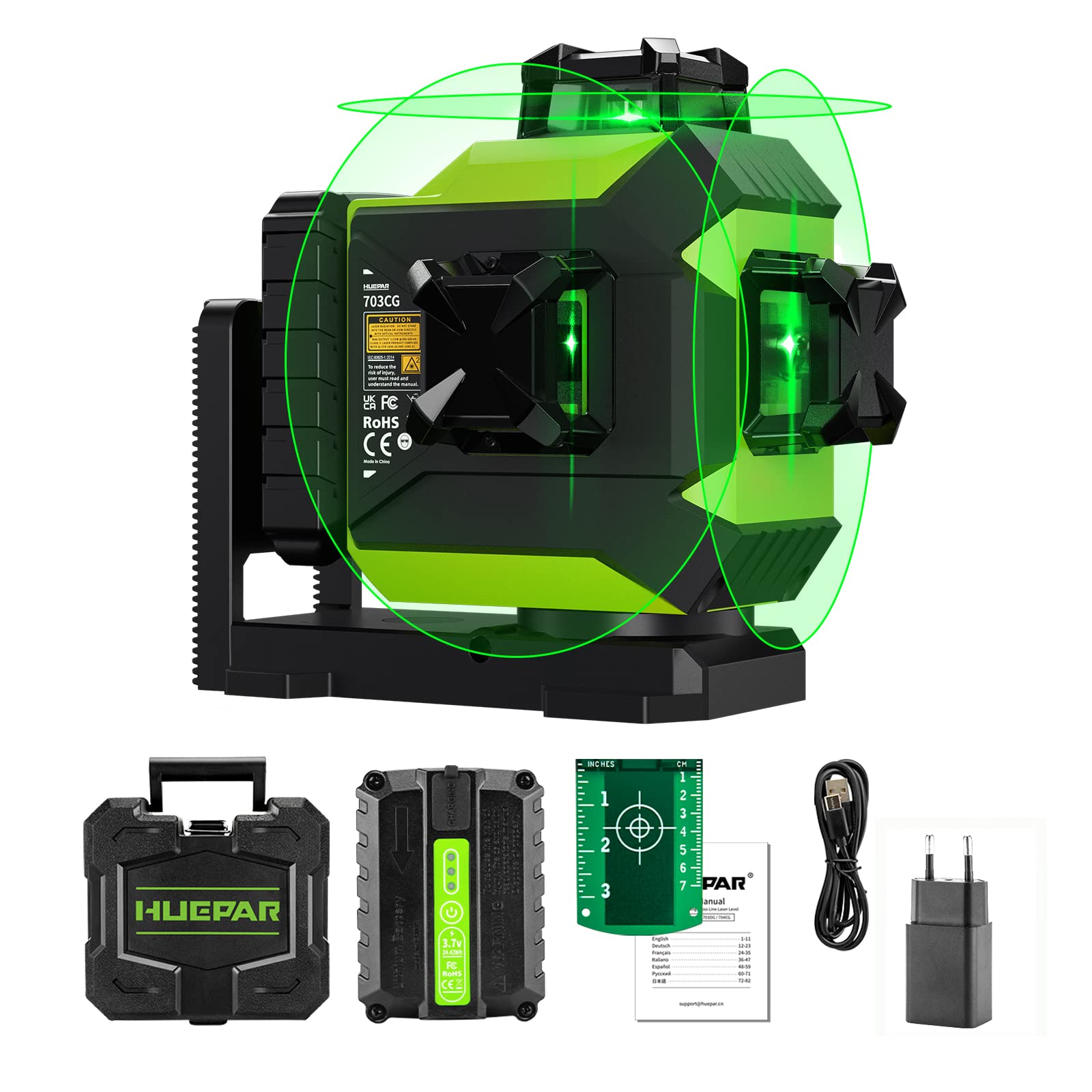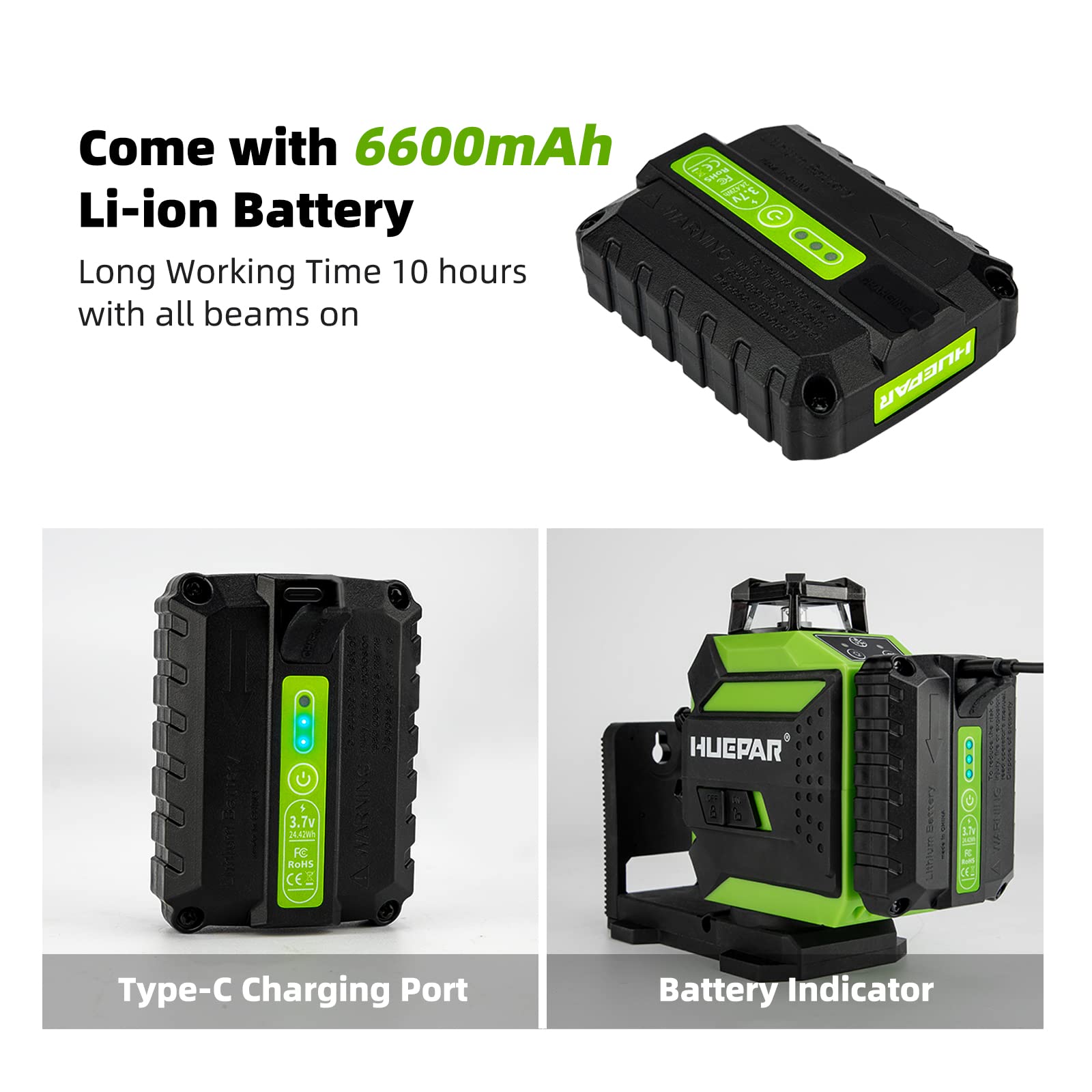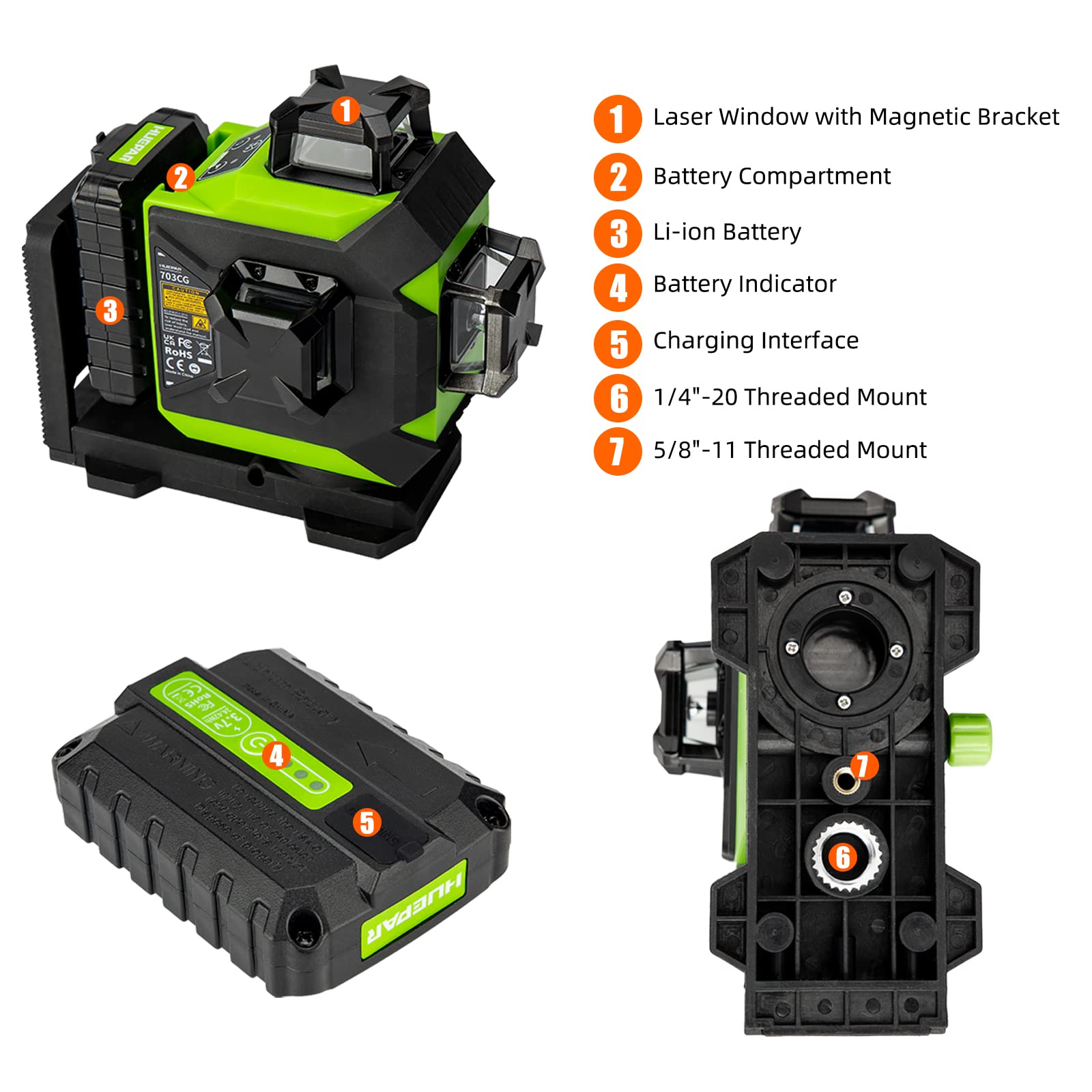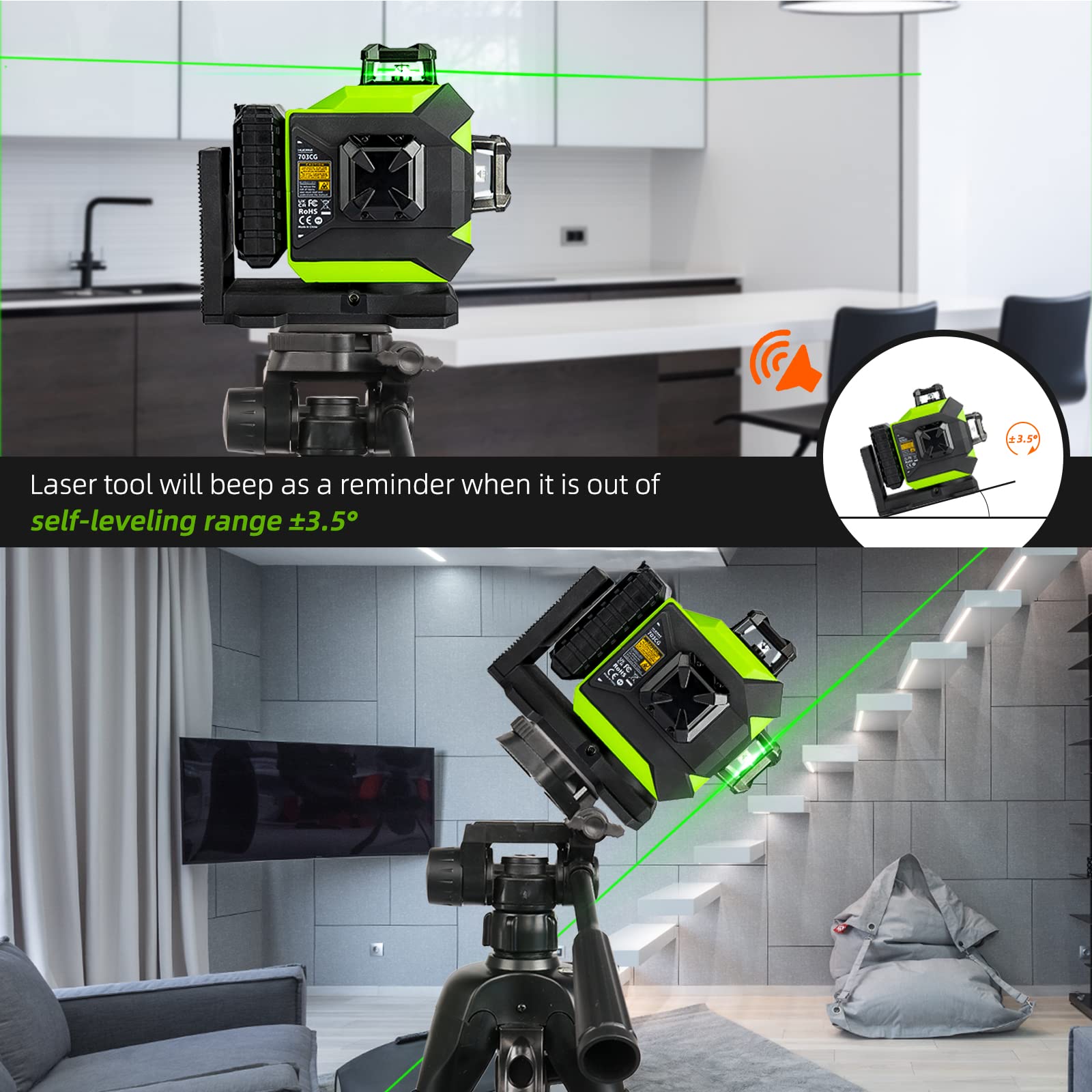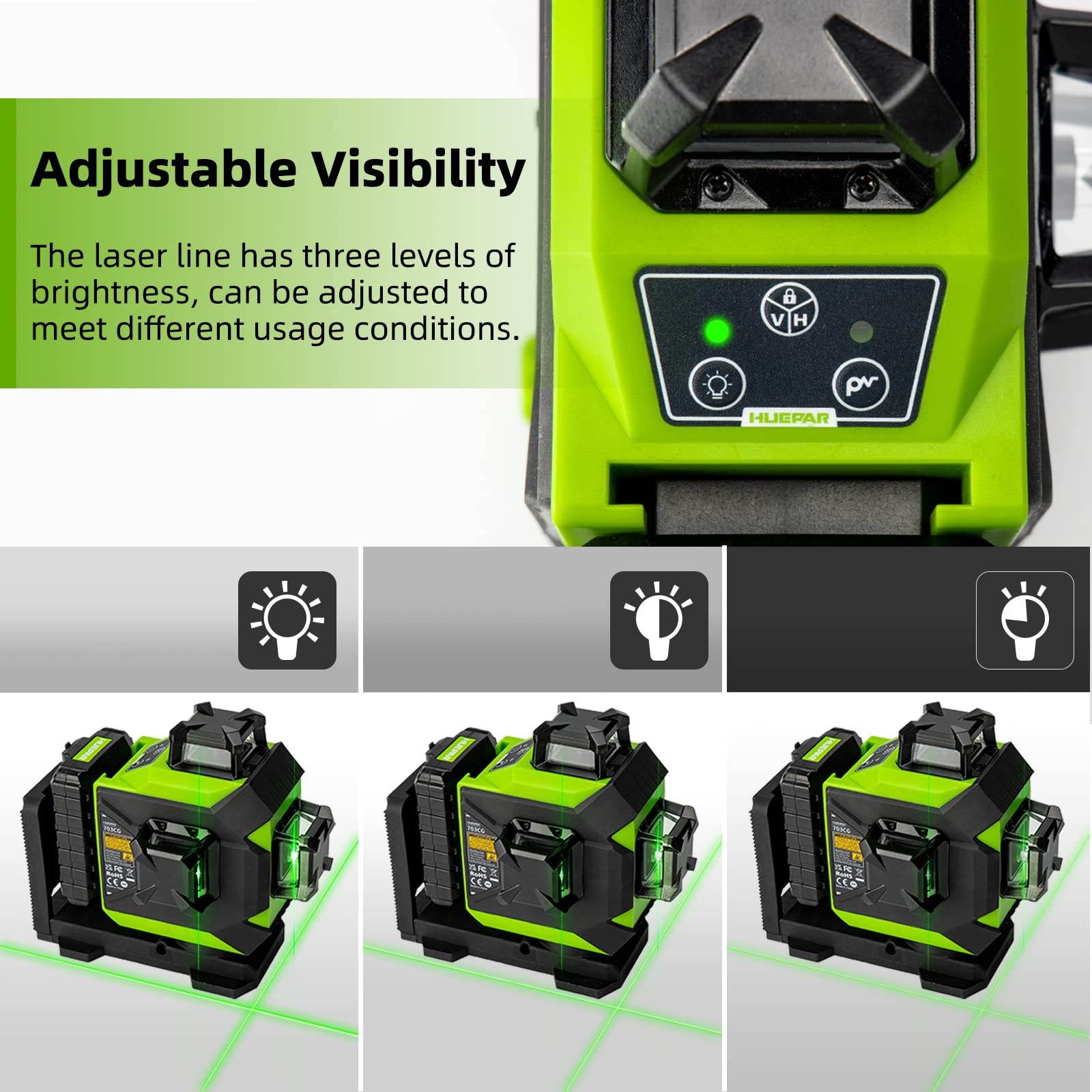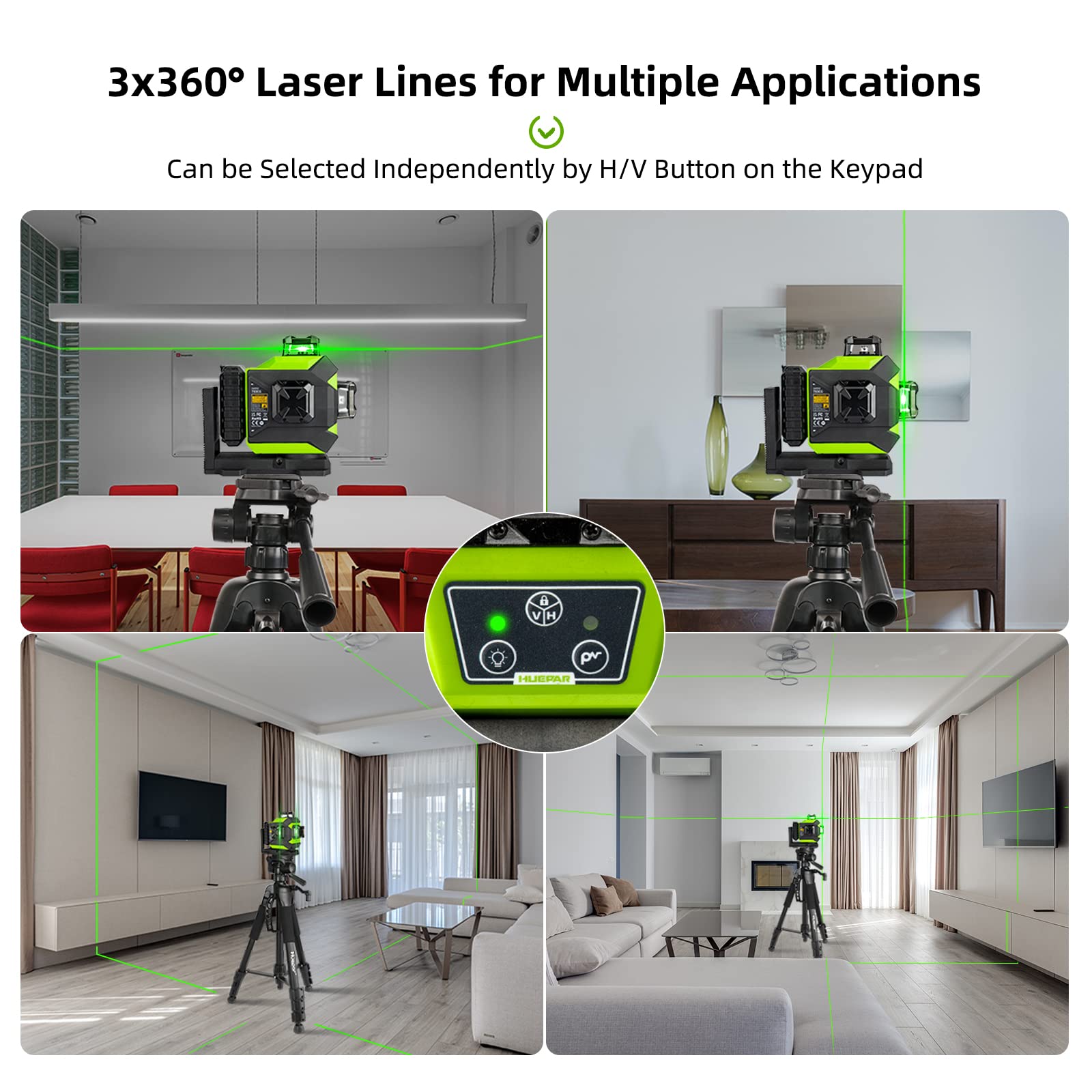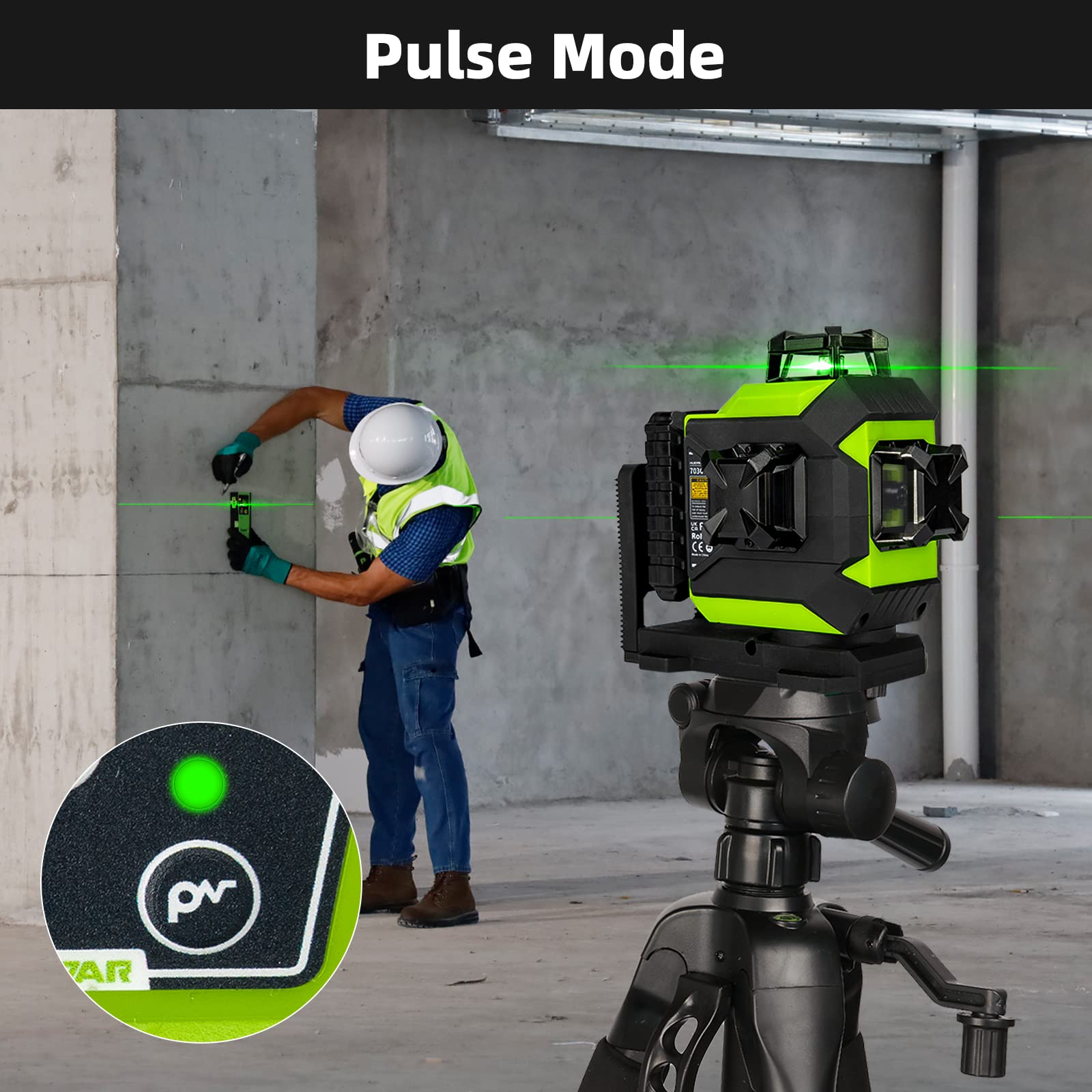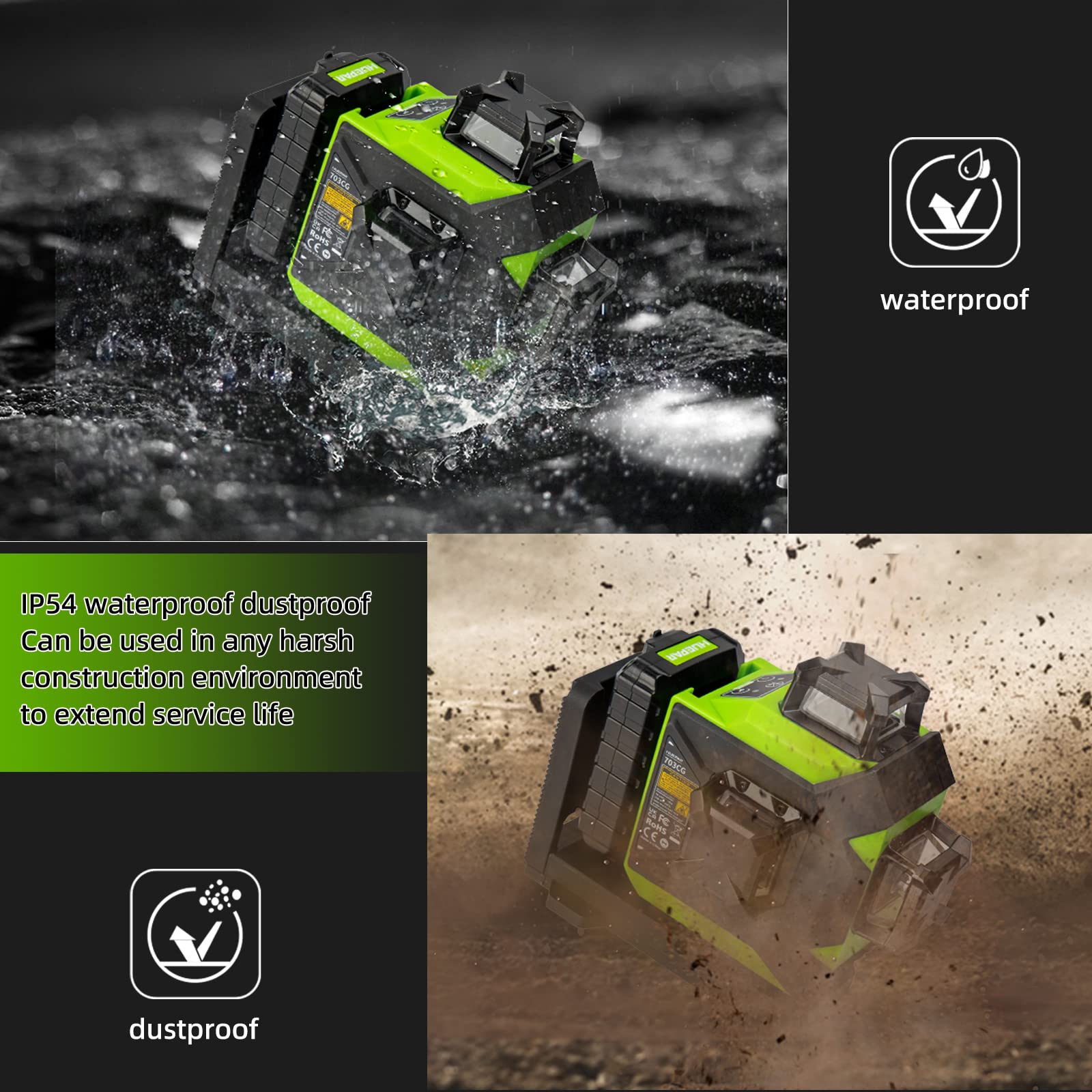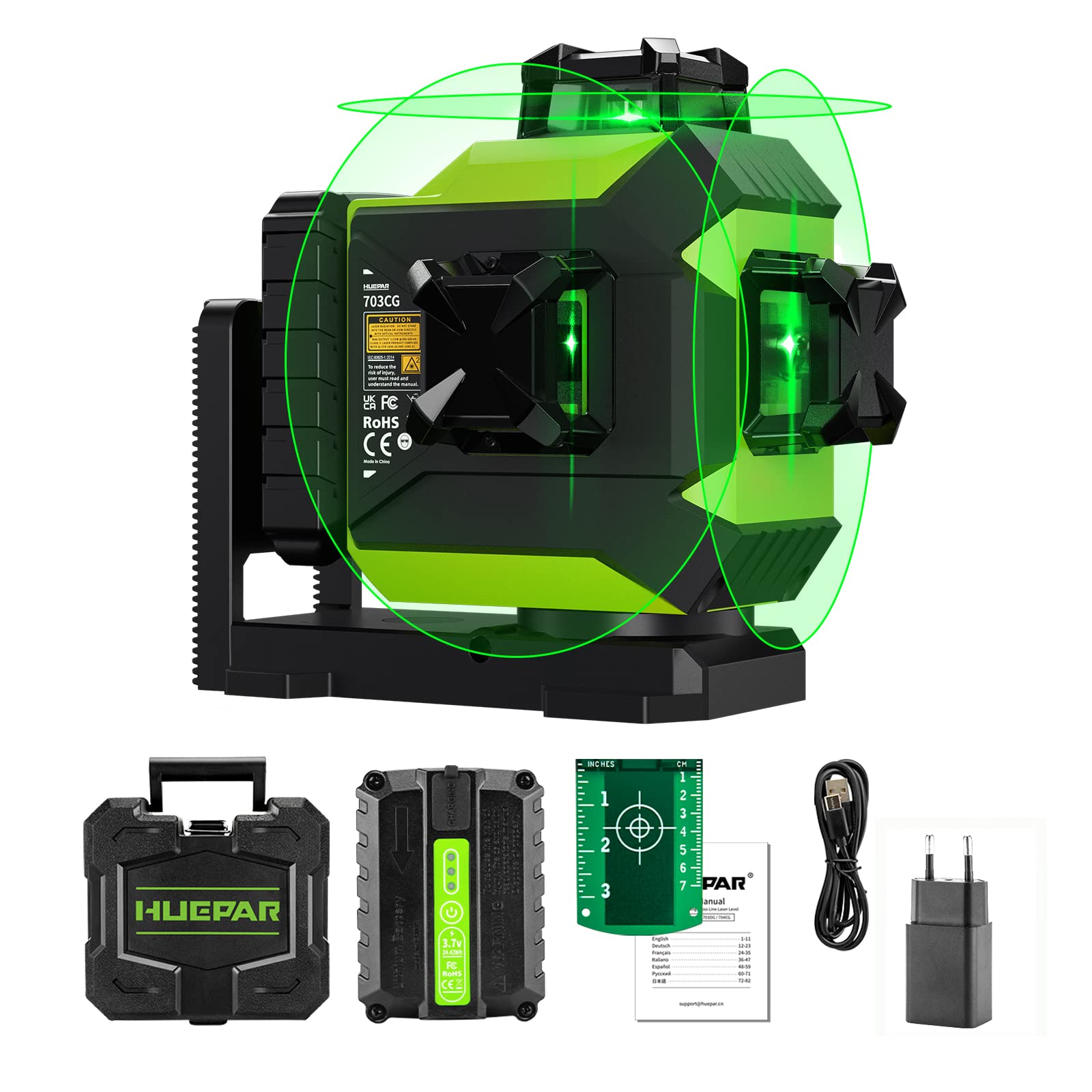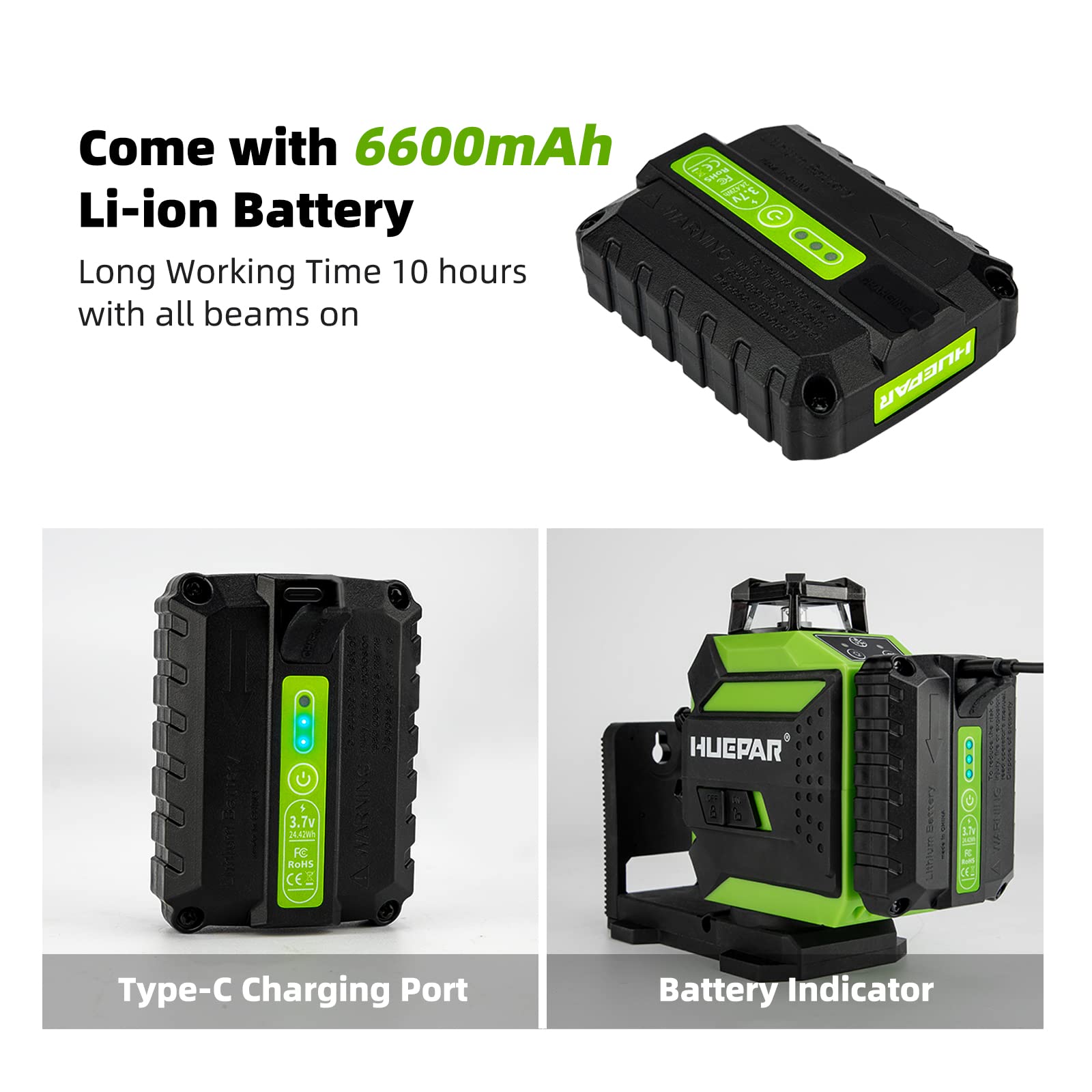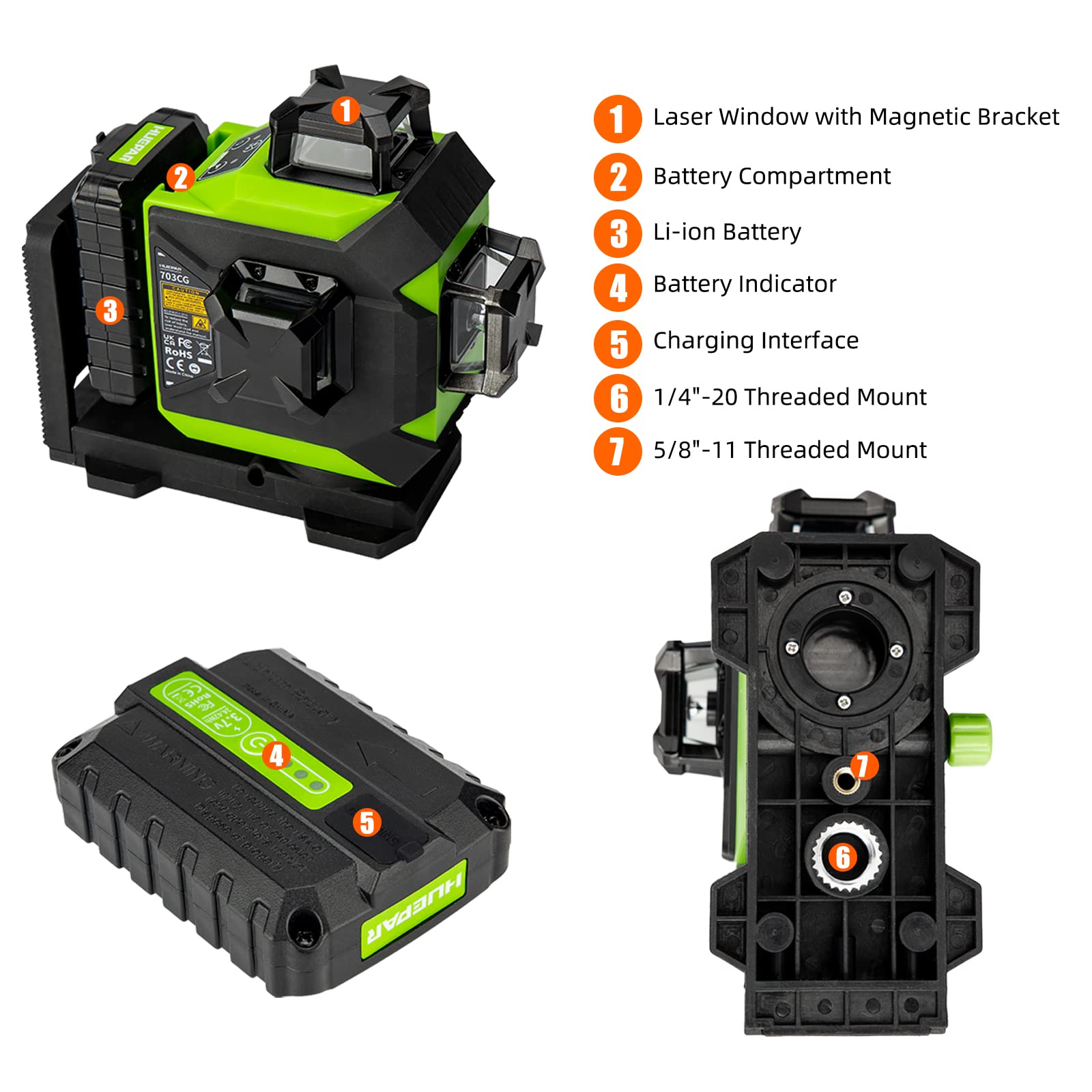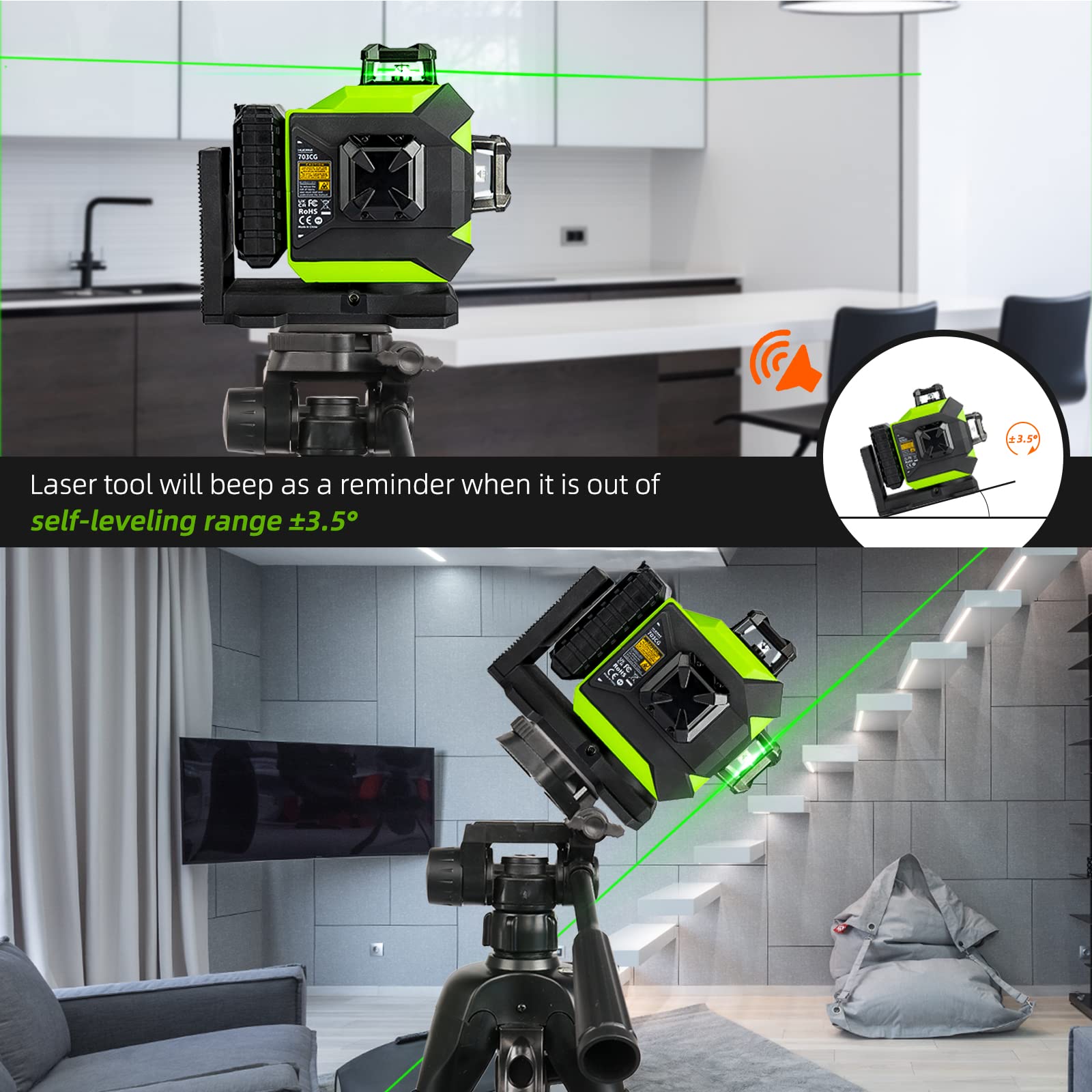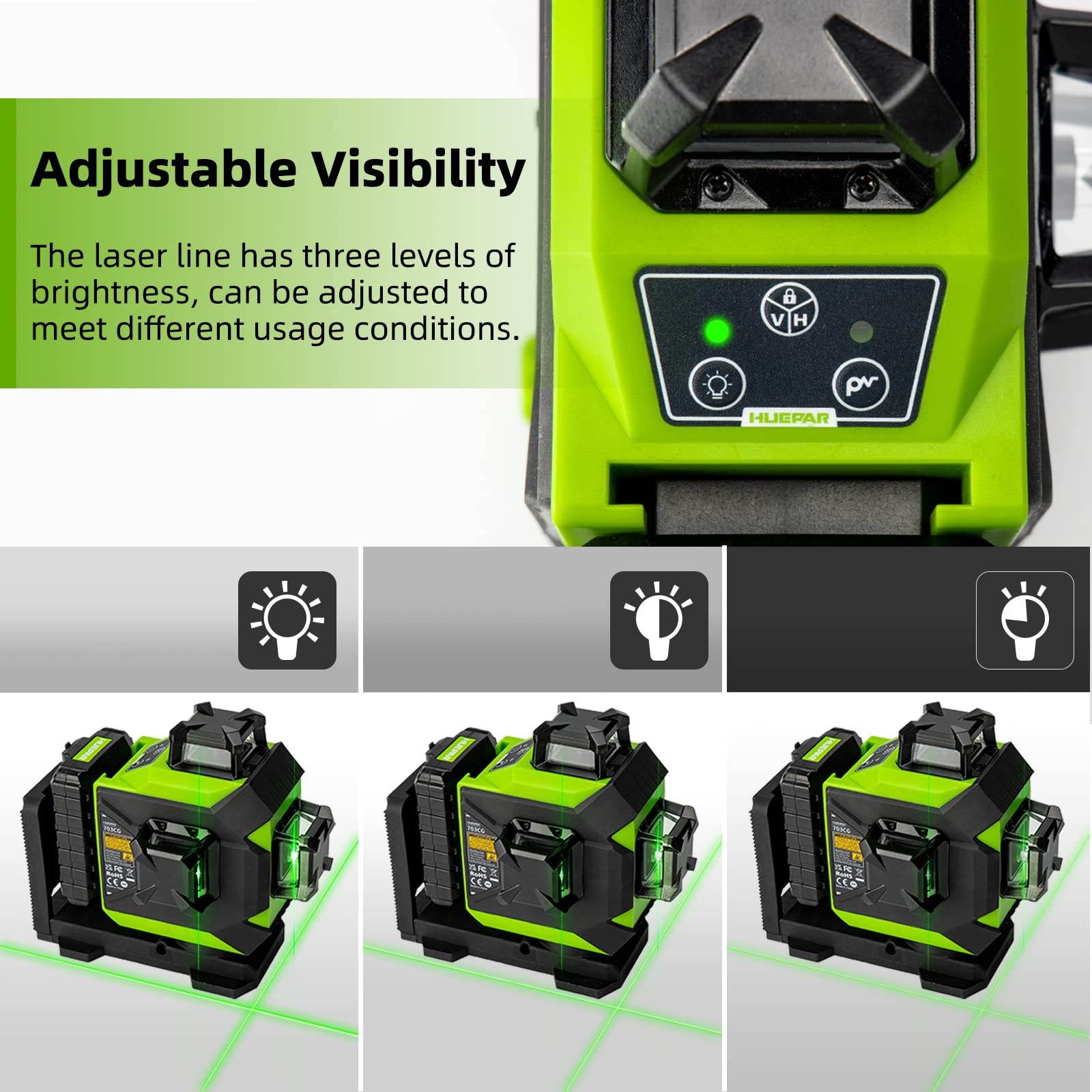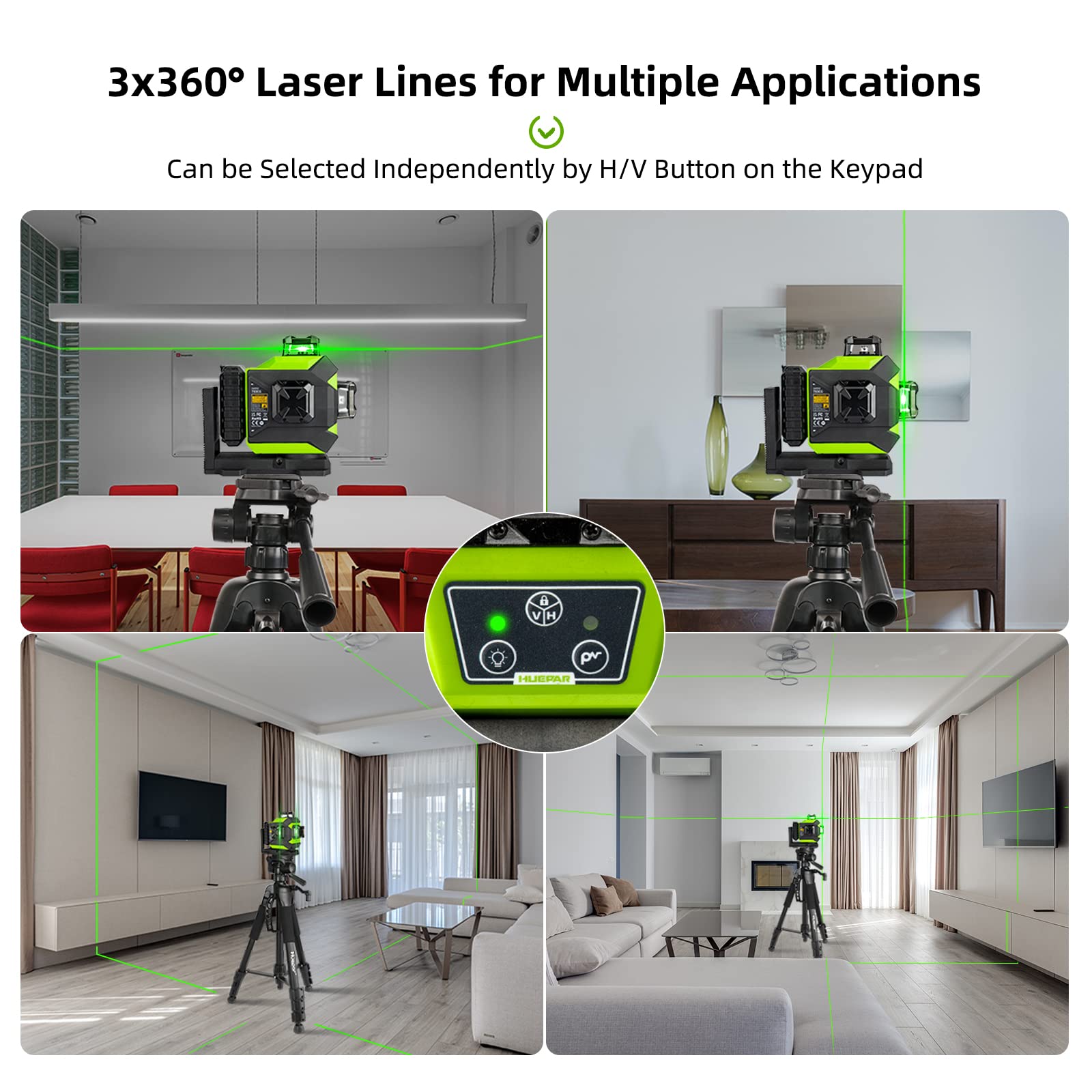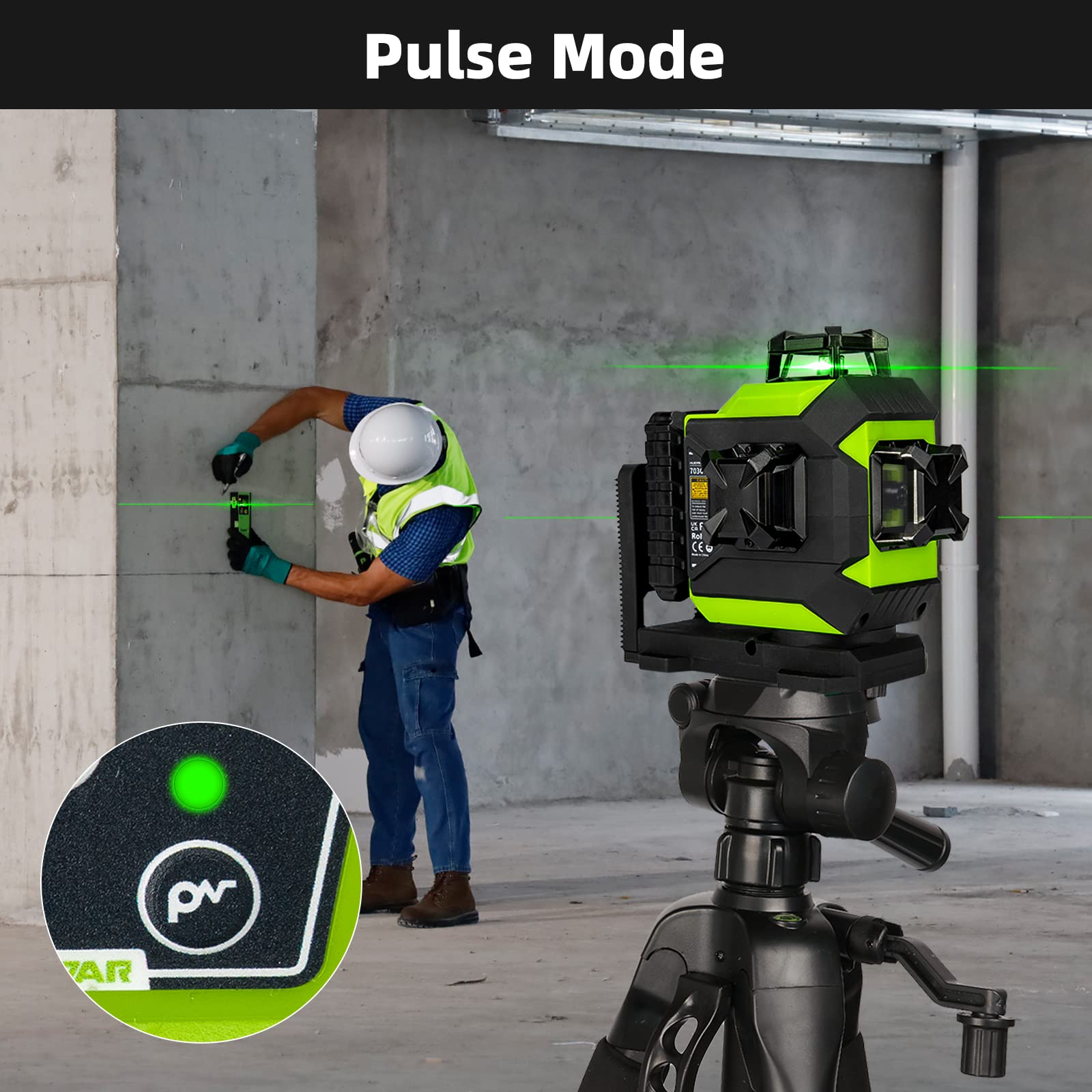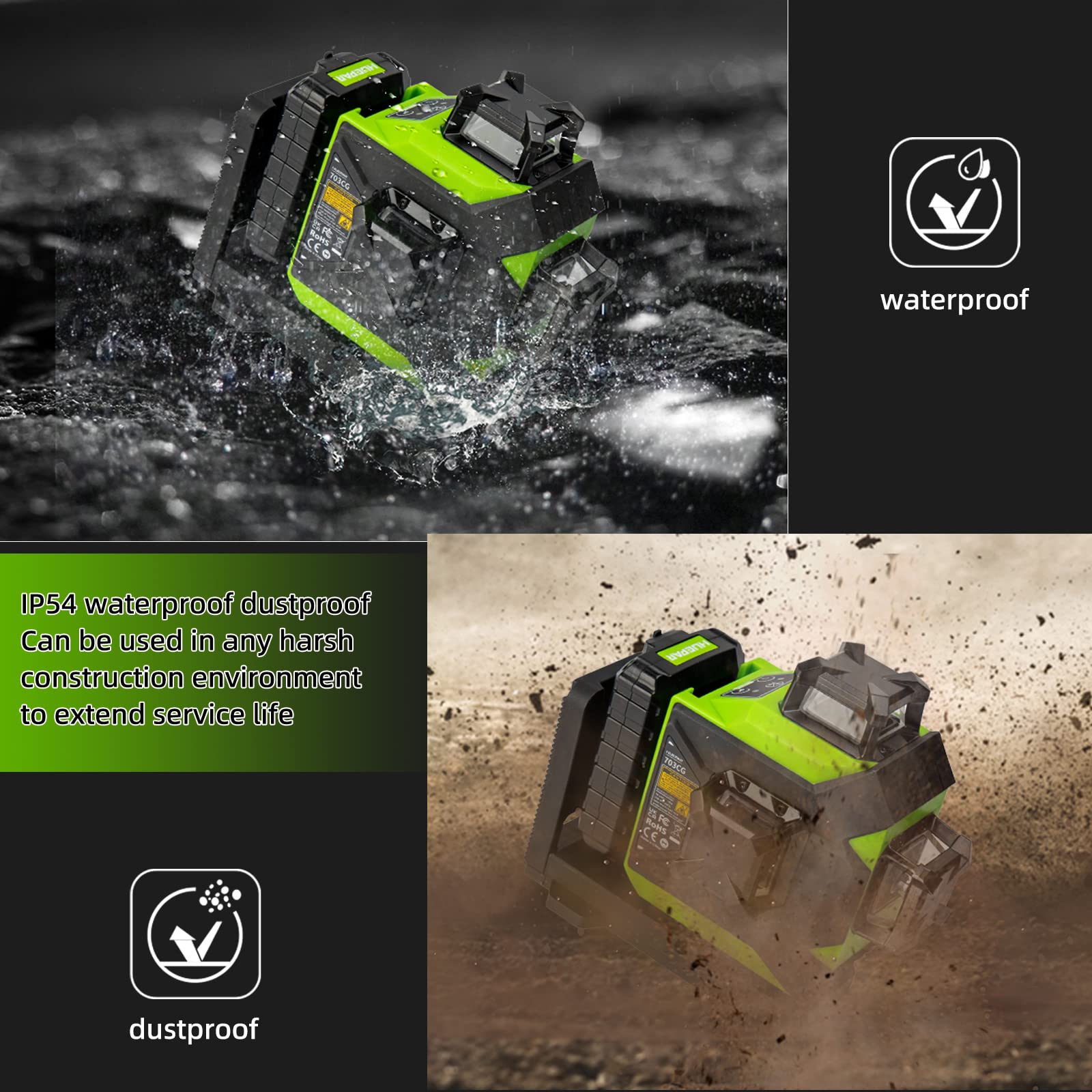 Huepar 703CG - 12 Lines Osram Green Beam Self-Leveling Cross Line Laser Level with Hard Carry Case
Regular price
$239.99 CAD
Sale price
$239.99 CAD
Regular price
$299.98 CAD
Tax included.
☑️ BLACK FRIDAY - 12% OFF , Code: BFCM2023
Free Shipping & ETA:Dec 04 - Dec 08

24 Months Official Warranty: Easy Returns & Exchanges
Pay with Ease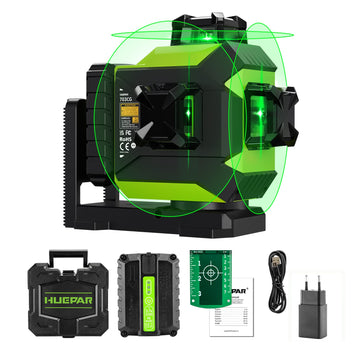 Huepar 703CG - 12 Lines Osram Green Beam Self-Leveling Cross Line Laser Level with Hard Carry Case
Description
Package List
2-Year Warranty
Shipping & Delivery
Payment
Great Support
Laser Beam Supplier

Osram

Laser Beam Color

Green

Laser Lines

3 x 360°

Laser Class

Class 2 (IEC/EN60825-1/2014)

Laser Wavelength

Wavelength 505-520nm

Laser Accuracy

±3mm/10m (±1/9 in. at 33 ft)

Leveling / Compensation Range

3.5°

Self-leveling Time

≤ 3 seconds

Working Range (60-100 LUX)

≤30m/98ft

Working Range with Detector

≤60m/197ft

Power Source

3.7V/6600mAh Li-ion Battery


-

Working Time

10 hrs

Charging Time

4 hrs

Mount Size

1/4''-20
5/8''-11

IP Rating

IP54

Working Temperature

-10℃ ~ 50℃ / 14℉ ~ 122℉

Storage Temperature

-20℃ ~ 70℃ / -4℉ ~ 158℉
High Protection Grade 3x360° Full Layout
One 360° horizontal and two 360° vertical planes enable users to cover the floor, wall, and ceiling all around the room.

The three laser lines can be selected individually depending on job site applications, you can easily choose to turn on/off any laser line to assist your leveling jobs, bright and clear.

Ideal for paving tiles, installing photo, door, window, or furniture carpentry, hanging wallpaper, etc.
Self-leveling & Manual Mode
This 360 laser level can set 2 modes, self-leveling mode, and manual mode.
Self-leveling mode: 
Unlock the pendulum, and enable the self-leveling mode, when the tool exceeds the self-leveling range by 3.5°±1°.

The laser beam(s) will blink about every 3-5 seconds to notify the user it is not self-leveling now.

 
Manual mode:
Once the pendulum is locked, it switches to manual mode, the self-leveling function is disabled, the cross laser tool is locked, and you can position the laser level at any angle you need.
Power-Saving Outdoor Pulse Mode
Turn ON the pulse mode: After powering ON, short press the "P" button to switch ON/OFF the pulse mode.

Pulse mode extends the working range up to 60m/197ft in brighter working conditions when using Huepar Line Laser Detector (ASIN: B07L6FP48S).

When the pulse mode is activated, the laser beams are dimmer, the pressure on the eyes is less when working at close range, and the working time can be appropriately extended.

It is compatible with Huepar LR-6RG / LR-5RG/ LR-8RG Line Laser Receiver (need to purchase separately) only.

Keep the pulse mode on when using a receiver.
Type-C Charging Port
Power by a 3.7V / 6600mAh lithium battery with the Type-C charging port can be charged separately and provides up to 10 hours of running time.

Direct input charging: When taking in the battery, the laser tool can be used at the job.

Three battery indicators on the keypad allow users to know the current battery volume.

Charging protection helps prevent overcharging.
Light brightness adjustment
Short press the "Light bulb" button to adjust the beam's brightness.

When turning on the unit, the beam(s) is full brightness by default and the Power Indicator lights up in Green.

Short press the "Light bulb" button to reduce the brightness. The power Indicator will be on and flash as a reminder.

Short press the "Light bulb" button again to reduce the brightness further. The power Indicator will be on and flash quickly.

*Note: The brightness cannot be adjusted under pulse mode.
High Protection Grade
The line laser reaches IP54 protection grade (shock resistant, waterproof, dustproof, shockproof, wear-resistant, impact resistant, cold and high temperature.).

The durable and high-quality shockproof enclosure provides 4 Ft. collision protection.

It's compact and lightweight for easy gripping, but large enough to sit stably, ideal for construction site work.
Integrated Flexible Magnetic Bracket Mounting Design
The laser level is equipped with a 360° strong magnetic bracket (not removable)that allows for quick positioning to metal surfaces, helping hang the laser level for wall applications.

And the 1/4"-20 and 5/8"-11 mounting threads on the bottom of the bracket can suit different tripod threads.
Package Contents
1x 703CG Laser Level Tool with integrated magnetic bracket Magnetic "L" Base
1x Li-ion Battery with type-c charging port
1x Type-C Cable
1x Power Adapter
1x Hard Carry Case
1x Laser Target Plate
1x User Manual
1 x Huepar 703CG
1 x Magnetic "L" Base
1 x Hard Carry Case
1 x Laser Target Plate
1 x Type-C cable
1 x User Manual
All official website orders will automatically receive a free 2-year membership warranty.
We insist on providing customers with high-quality products and promise to provide customers with 24-month worry-free after-sales service.
The time frame of an order delivery is divided into two parts:
Processing time: 1-2 working days
Shipping time: 2-5 working days
We offer free shipping on orders of $99 or more. If your order does not qualify for free shipping, the shipping fee will be shown on the address-filing page once the order is settled.
We accept the following forms of payment:
1. Credit Card (Visa, MasterCard, American Express, Discover)
2. Debit Card (Visa, MasterCard, Discover)
3. Paypal
4. Paypal Credit
5. Apple Pay
6. Google Pay
7. Shop Pay
8. Affirm Financing (excluding West Virginia and Iowa)
9. Bank Transfer
PREMIUM SERVICE, SUPERIOR QUALITY
24/7 Premium service team
Equipped with factory-trained experts, Huepar's consumer service team strives to find the right solution for your needs – from advice to sales and repair & maintenance services.
You can enjoy efficient support from Huepar- we promise to respond in 24hrs and solve the problem in 48hrs.

Lifetime Customer Support
All Huepar products come with lifetime customer support - no worries about exceeding the service period.
All product defects, such as accuracy malfunction, battery and charger damage and requests for replacement parts will be dealt with on time, every time.

Note: Please contact our customer care using online chat service at https://huepar.com/support or email"support@huepar.com"if there is any problem with your payment.
Which is the Best for You?
Specification comparison between products Huepar 703CG - 12 Lines Osram Green Beam Self-Leveling Cross Line Laser Level with Hard Carry Case, Huepar S03CG-L - 3D Self-leveling 3 x 360° Cross Line Laser Levelwith Magnetic Pivoting Base, Huepar P03CG - Self Leveling 3x360°Bluetooth outdoor Line Laser 3D Green Beam with Hard Carry Case, Huepar LS03CG - 3x360°Laser Level with 2 Li-ion Batteries 3D Outdoor Green Cross Line Self Leveling for Construction

| | | | | |
| --- | --- | --- | --- | --- |
| | | | | |
| Product SKU | 703CG | S03CG-L | P03CG | LS03CG |
| Product type | 3D Laser Levels | 3D Laser Levels | 3D Laser Levels | 3D Laser Levels |
| Number of Lines | | | | |
| Laser Lines | | | | |
| Laser Beam Supplier | | | | |
| Laser Beam Color | | | | |
| Laser Wavelength | | | | |
| Line Accuracy | | | | |
| Leveling / Compensation Range | | | | |
| Max Self-leveling Time (Seconds) | | | | |
| Bluetooth Connectivity | | | | |
| Remote Control | | | | |
| Dot Accuracy | | | | |
| Line Switching | | | | |
| Pulse Laser Receiver Mode | | | | |
| Working Range (60-100 LUX) | | | | |
| Working Range with Detector | | | | |
| AA Battery | | | | |
| Li-ion Battery | | | | |
| Working Time (Hours) | | | | |
| Charging Time (Hours) | | | | |
| Mount Size | | | | |
| Durable Design | | | | |
| Hard Carry Case | | | | |
Everything I needed a laser to do
Bought this to help me set forms for concrete pour for my detached 24 x 24 workshop. Great accuracy and easy to use. Used it during bright sunny day and used the included Huepar Line Laser Detector. Rechargeable battery pack and hard storage case are awesome standard options.
WARNING:
Do not point the laser beam directly into the eyes.
The device is a laser class 2 laser product according to IEC / EN60825-1 / 2014. It is allowed to use the device without any further safety precautions.
The eye protection is usually secured by aversion reactions and blink reflex.
Huepar Laser Level has undergone laboratory benchmark testing to ensure that the working temperature range of the product is: -10℃ ~ 50℃ / 14℉ ~ 122℉; the recommended temperature for product storage is: -20℃ ~ 70℃ / -4℉ ~ 158℉.